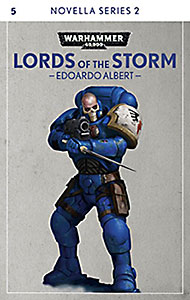 A young warrior hides on a storm-wracked shrine world, sheltering sacred artefacts from the dread servants of Chaos who would defile them. As the storm wanes, hope fades… until the Fulminators arrive.
READ IT BECAUSE
Discover the ways of the Fulminators, an all-Primaris Space Marine Chapter created during the Ultima Founding.
THE STORY
From the sanctity of the Storm Zone, the Faithful watch as the Ruinous Powers defile their once-glorious shrine world of Chevreuse. Amongst their number is the young warrior Montalte, sheltering within the divine tempest that protects not only the remains of the planet's populace, but the sacred bones of an Imperial saint. As the forces of Chaos grow in strength and the storm begins to wane, it seems certain that all is lost… until Montalte is summoned by blue-armoured gods. The Fulminators now walk the storm.