Oswiu: King of Kings (The Northumbrian Thrones 3)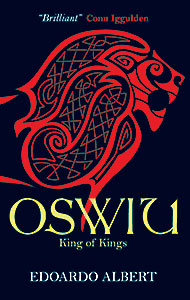 Oswald's head is on a spike. Can Oswiu avoid the same fate?
The great pagan king Penda set a trap, and when the brothers Oswiu and Oswald walked in, only one came back alive.
Rumours abound that the place where Oswald's body is strung up has become sacred ground a site of healing for those who seek it. Oswald's mother believes he will protect those he loves, even beyond the grave. So she asks the impossible of Oswiu: to journey to the heart of Penda's kingdom and rescue the body that was stolen from them.
Oswiu: King of Kings is the masterful conclusion to The Northumbrian Thrones trilogy.
"Edoardo Albert's book is brilliant: hugely enjoyable, a galloping plot with characters I care about – exactly the sort of thing I love to read. . . . This was a joy to read from start to finish." Conn Iggulden, author of the Conqueror and Emperor series.
First Published 21 October 2016 by Lion Fiction