Adventures in Bookland: Flashman and the Mountain of Light by George MacDonald Fraser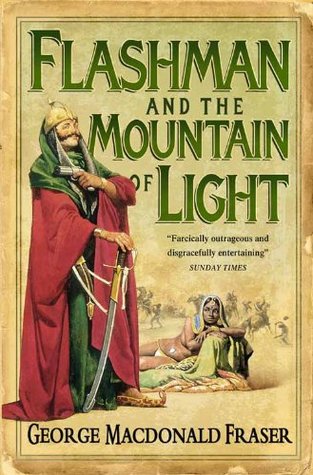 I'm rereading the Flashman novels in chronological order (the first time round I read them in writing order). So it's interesting to read this one, dealing with Flashie's misadventures in the First Anglo-Sikh War in 1845/46, as the fourth novel in the series whereas before I read it as the ninth.
I do think it doesn't quite have the freshness and verve of the early Flashman novels, nor their capacity to surprise. In the first novels, Flashman really was a cad and a scoundrel but by the time Fraser wrote this one, there was a sense in which Flashman had become the hero; rhetorically he might argue that he did the right thing only through force of circumstance and the desire not to be found out, but in the adventures here, a true coward could have found a way to absent himself without too much difficulty, particularly since Flashman spends most of the book operating behind enemy lines as, in effect, a secret agent.
The research is, as ever, superb although naturally inclined towards the most salacious takes on the people involved – although Maharani Jind Kaur is one of those 19th century rulers that were too vivid to endure into the prosaic 20th century – and Flashie, of course, is pressed into service with her.
For 99 per cent of writers of historical fiction, this would be a novel at the absolute top of their game. For George MacDonald Fraser, it's slightly down on his best Flashman work.