Adventures in Bookland: Quartered Safe Out of Here by George MacDonald Fraser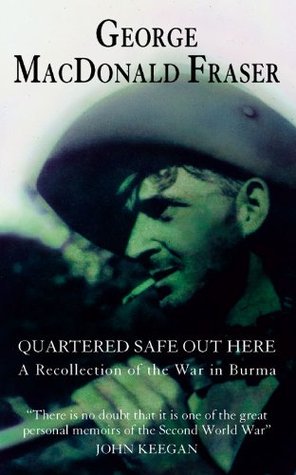 In 1942, a young Scotsman, George MacDonald Fraser, found himself unwittingly assigned to Nine Section, a group of mostly Cumbrian hillsmen, in the 17th Division of the Burma army. The war in Burma was the 'forgotten' theatre of the Second World War, with none of the glamour of the Desert Rats nor the elan of the pilots of the Battle of Britain. It was fought through jungle and plain against an enemy that, to the British, was completely alien in their psychology and tactics.
Fraser, in later life, would become first a journalist and then the writer of the Flashman novels. This memoir brings all his writing gifts to the fore, perhaps most clearly his ear for language (the almost phonetic presentation of the Cumbrian accents of the other men in his section is a delight), his ability to depict character and the writer's eye for detail. War is not often written from the level of the 'grunts', the boots on the ground who do the fighting and the dying. This memoir brings those men, all dead now, back to life. There could be no more fitting memorial.