Adventures in Bookland: Remote People by Evelyn Waugh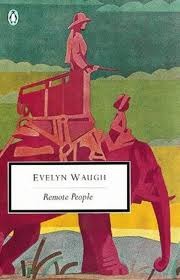 Having discovered, presumably to his delight, that he was a good enough writer that people would actually pay to read his 'what I did in my holidays' essays', Evelyn Waugh clearly decided to pen his way around the world, on this occasion convincing a Fleet Street newspaper to pay for his travels in Africa. The notional peg on which he hung his expense account was that he would write an account of the coronation of the Emperor Haile Selassie of Ethiopia, and indeed he did, and highly entertaining it is too, but clearly Waugh was basically blagging: getting other people and organisations with more money to pay for him to have adventures while, preferably, staying in the best accommodation and eating at the best restaurants around.
However, being Waugh, Evelyn manages to make this eminently readable and, on the personal level, he was able to eschew comfort when necessary in order to venture further off the beaten track. Still, travelling in the mid-1930s, when the British Empire reached its global height, and having all the confidence of a journalistic remit, a public-school and Oxbrige education, and the sublime self-confidence that came from realising that he was the supreme stylist of the English language writing, Waugh could, and did, go anywhere, talk himself into anything, and emerge unscathed and, usually, with a decent glass of champagne in hand. Remarkable adventures of a remarkable man. Highly recommended.