Adventures in Bookland: The Colonel's Monograph by Graham McNeil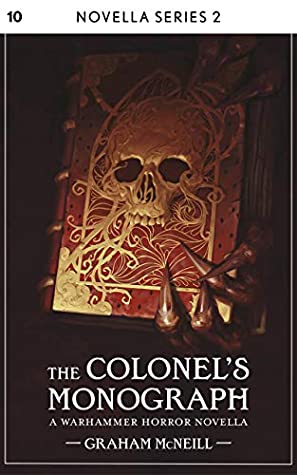 There was a question, extant in publishing in the 1990s, that I think I can now answer: who (or what) killed horror? Back in the 1980s, on the back of the huge success of Stephen King, Clive Barker, James Herbert and Peter Straub, horror was the big genre, with publishers greenlighting pretty well everything calculated to scare the reader.
And then, horror died. The readers stopped buying, the publishers stopped publishing and those writers who had started off in the genre had to find another outlet for their talents – or another career entirely. The usual reason given for the sudden collapse of the market was over saturation: too many books by too many mediocre authors. But that has scarcely been a problem for chick lit, or detective fiction so why did horror fiction crash?
I think it was because, for horror to be truly frightening, there has to be an underlying belief, on the part of the writer as well as the reader, that there is something worse than dying. There has to be consequences for moral choices that transcend merely pain and suffering, which, however bad, will terminate in death, and a sense of the possibility that we, as human beings, can fall into an eternal state that cuts us off completely from what we are and what we should be. For horror to work, there has to be a profound sense that, while human beings enter this world as human beings, it is possible for us to leave it as creatures anywhere on a hierarchy from the basest and most depraved to the highest and most exalted, and that these possibilities carry on after death. For a horror that is based purely on this world becomes, in the end, nothing more than torture porn, variations on the suffering that can be inflicted on to the physical body and a mind that is conceived as nothing more than an emanation of the physical. As such, horror loses its horror, for death brings down the curtain on all suffering and cuts every story, well, dead.
This is exactly what happened with the decline and fall of the horror genre: it devolved into variations on how to cause pain, with Clive Barker's Cenobites representing the terminal perfection of this view of horror: pain as ecstasy, horror devolved into a sado-masochistic forever.
But in the Warhammer 40k universe, there really are things that are worse than dying. Accepting the premises of the universe, with its pervasive dread of a corruption that can continue far past death itself, there is the possibility of reworking the necessary tropes to make horror work, to return it to its Victorian prime, and I'm pleased to say that Graham McNeil takes the opportunity in his stride. Indeed, with the nods to M.R. James, doyen of Victorian ghost fiction, in the book, it's clear that he knows exactly what he's doing in The Colonel's Monograph. There are worse things than dying and McNeil lets that deepening dread seep through the controlled prose of this taut novella. A fine addition to the 40k universe.