Adventures in Bookland: Thieves' Paradise by Nick Horth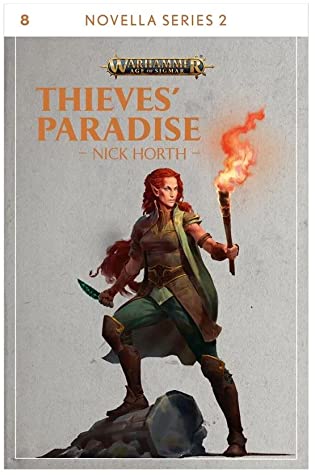 It really is set in a paradise for thieves. To be precise, the Latchkey Isle, the place where thieves, rascals, adventurers and general scallywags go when they die in the Warhammer Age of Sigmar universe. And, as a welcome antidote to the general grimness, Latchkey Isle sounds like the sort of place that would be a rather enjoyable home for eternity: night-time feasting and partying and days spent cracking the ever changing puzzles and challenges set by the island. All rather splendid.
Of course, following the Necroquake the whole place is under threat from various forces but the island still stands and to it comes a splendid Elven anti-heroine – a phrase not often written in fantasy literature – with the job of finding and retrieving a treasure from the island before the bad guys get it. Shev Arclis is an engaging character – it's good to find someone who relies on wit rather than not very marked fighting skills – but the real draw is the fantastical setting: I would love to read more stories set on Latchkey Isle.