Adventures with Words: Holes by Louis Sachar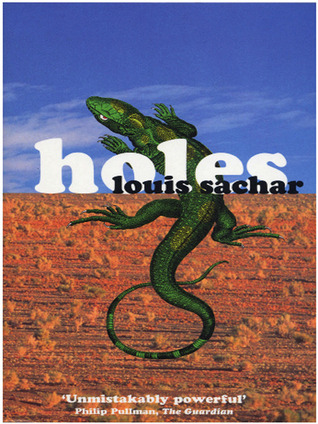 With the explosion in children and young adults' fiction over the last twenty-five years set off by JK Rowling's Harry Potter book you'd think there would have been many great books among the bomb. But, as with all publishing explosions, most of it is mediocre and the best is just good, rather than being great. Holes might just be an exception: it really might be great. We'll only know for sure in fifty years time, but even now, nearly twenty five years after it was first published, the story holds up really well. It's helped in this by having narratives set in different time periods, so it's less tied to the present than most children's books, but most of all it's the way that Sachar brilliantly structures his story that makes it stand out. He weaves the apparently disparate storylines into each other and then, at the climax, brings them all together in what is something of a masterpiece of resolution.
It also avoids the if-you-want-it-hard-enough-you'll-get-it cliche that bedevils modern children's fiction and films: the book has lessons and wisdom to impart, but they are lessons and knowledge hard won – like digging holes in the hot sun.