Book review: C.S. Lewis: A Life by Alister McGrath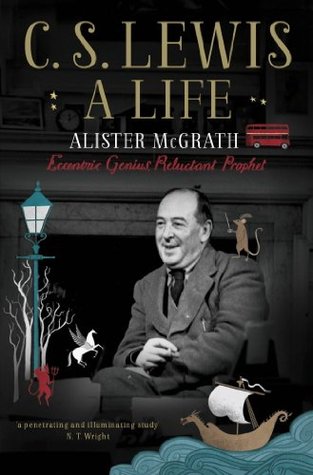 I read Alister McGrath's biography of C.S. Lewis a few months ago but did not get around to writing a review at the time. Knuckling down to it now, I must confess I remember almost nothing about the book – except this: McGrath spends a great deal of time and effort on proving that Lewis got the dates of his conversion to Christianity wrong in his autobiography, Surprised by Joy. He makes a good case but spends an inordinate amount of words and pages on it. Within the context of wider scholarship about Lewis, it is no doubt of some importance; set into a one-volume biography of the man, it distorts everything else, pulling it all towards a central point that is of vital importance to the writer but zero relevance to Lewis himself.
Not wishing to leave the reader of my reviews short-changed, however, I've had a look at other reviews to refresh my memory and now I do recall that McGrath also sets out a case that Joy Davidman basically set out to entrap Lewis into marriage, tempting him the bait of her correspondence and then hooking him with the feminine double whammy of wit and wiles. As many others have remarked, Lewis was indeed surprised by Joy. McGrath is also good on Lewis's enduring influence.
In summary, a book best suited for those with a deep and scholarly interest in Lewis, rather than the general reader.