Adventures with Words: Shakespeare: The World as Stage by Bill Bryson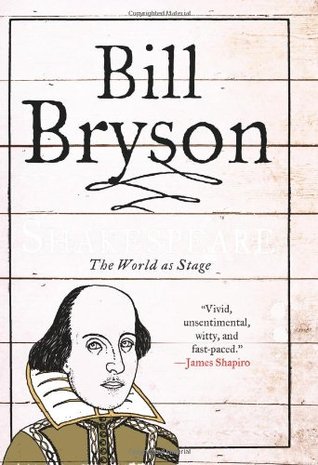 Bill Bryson loves words. He loves all sorts of words: long ones, short ones and difficult ones (he wrote a whole book about these, called Troublesome Words, which makes ideal toilet reading as it's full of short but interesting entries). As such, he's a good man to write a book about someone who loved words even more: William Shakespeare. So the book is very good about Shakespeare's language: a genius at phrase making so great that many have entered the language as figures of speech.
As a life of Shakespeare, Bryson however takes a minimalist approach when compared to Shakespeare's language, emphasising again and again how little we know for sure about him. Mind you, it's not just us. Apparently, Shakespeare himself was a little wobbly about how exactly his surname should be spelled (and in his surviving signatures, it's never the way we write it now). So the book comes as a good antidote to the various studies that claim to have uncovered the secret of Shakespeare. According to Bryson, there are no secret keys to unlock the mystery surrounding the world's playwright: Shakespeare himself either covered up his tracks or the simple loss of knowledge by the passage of time covered his tracks for him.
It's a fairly basic book on Shakespeare, and a good place to start for those interested in finding out something about what we know, but I would recommend James Shapiro's 1599: A Year in the Life of William Shakespeare as a better book on the Bard.