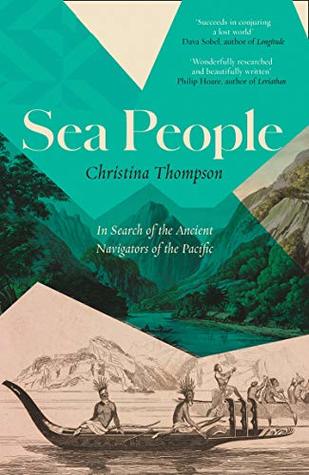 There's a problem with being a laggardly book reviewer: even the most vivid and fascinating books fade. One of the main reasons for me writing book reviews is to cement the book into memory and generally it works very well. Unfortunately, for various reasons, it's been quite a while since I fnished reading Sea People and most of its specific content has disappared from my memory as completely as if I, like its protagonists, found myself in the middle of the Pacific Ocean. But, unlike me, the Polynesians who explored and settled that vast ocean had ways of finding their way around and Thompson does a brilliant job of recounting how they did it as well as the long and roundabout story of how the rest of the world slowly came to appreciate the Polynesian achievement.
There, I'm already beginning to remember more. Something else that comes back to me is that Captain James Cook deserved all the approbation heaped upon him: superlative navigator, exceptional leader and a 19th-century Englishman willing to engage with the natives and learn from them. There was a great section in the book about a Tahitian (I think) who embarked with James Cook and sailed with him, the two becoming collaborators and friends within the possibilities of their respective worlds. It was a meeting of very different approaches to the task of navigating the vast expanses of the Pacific Ocean.
Sea People opens a window onto a very different world of water and sun and currents and winds. It's left more of an imprint on my mind than a book about what is, quite literally, trackless has any right to do so. In fact, it is one of the small percentage of books that would be worth returning to.