The History of Lindisfarne part 3: Aidan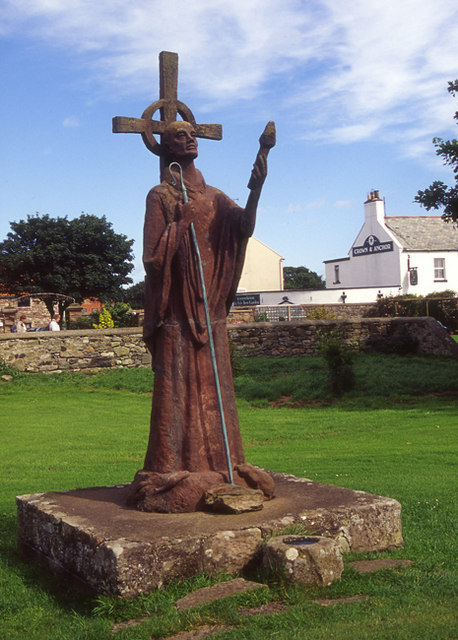 Christianity in Ireland had developed in a land never conquered by the Roman Empire, a country entirely without the towns that provided bases for bishops elsewhere. In response, Irish Christianity established itself around monasteries, with bishops often also acting as abbots. Aidan himself was both abbot and bishop, but he arrived in Northumbria with a significant disadvantage: he didn't speak the language. While he learned it, Oswald acted as his interpreter. One imagines that, having the king act as translator, must have aided Aidan's initial missionary effort considerably.
But an early Medieval king was peripatetic, travelling with his court to royal estates throughout his kingdom, doling out justice and consuming the food renders that were the chief forms of taxation. With Oswald so often away, it was down to Aidan to spread the new word.
He did this through a mixture of stringent self-discipline and humility, coupled with open-handed generosity. As a member of the nobility, Aidan was entitled to ride a horse – indeed, having a horse would have made his job much easier, enabling him to ride between the widely-scattered settlements of Northumbria. But, when he was given a fine and expensive horse by the king, he promptly gave it away to the first poor man he passed. When remonstrated with, Aidan pointed out that any son of Adam, however poor, was worth more than any son of a mare, no matter how valuable.
The self-discipline was evident in the monastery Aidan built on Lindisfarne. Surrounded by a ditch and bank, Aidan's monastery constituted only those buildings strictly necessary for the daily round of prayer and labour that was the great work of monks. There was a church, made of wood and thatched, a cemetery, the most basic accommodation for the monks, and the workshops and sheds necessary for the other great work of early Medieval monasteries: book production. That was it. Even royal guests had to rough it.