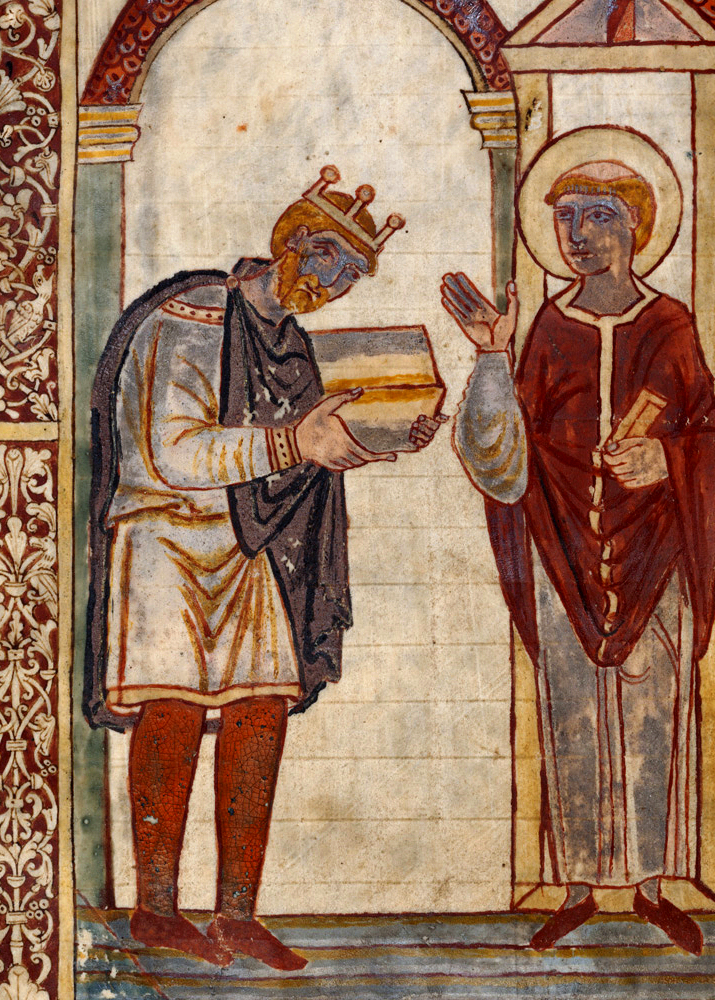 The first portrait of a king of England was made of Æthelstan (894-939).
In 934, on his way north, Æthelstan stopped at Chester-le-Street to visit St Cuthbert. Admittedly, Cuthbert had been dead for two and a half centuries, but his power as a saint and intercessor continue. This power was made all the more potent for when the king arrived, the monks reverently opened the sarcophagus containing the saint's body to reveal it as incorrupt.
In token of his appreciation for the intercession of the saint, Æthelstan commissioned a splendid Gospel Book and presented it to the monks at Chester-le-Street (they would later move Cuthbert to Durham, where his body still resides in the cathedral). On the back of the first folio is a picture of a king presenting a book to a saint. Although neither are named, they are clearly Æthelstan and Cuthbert: the king is crowned yet still he bows before the great sanctity of the saint. For his part, Cuthbert has his right hand raised in blessing to the humble king before him. By his gift, and his honour, Æthelstan won the blessing of the most renowned saint of Northumbria, a force in heaven and a blessing among his people on earth, and he left us his portrait, the first direct depiction of a king in English history.