Adventures with Words: The Men Who Made the SAS by Gavin Mortimer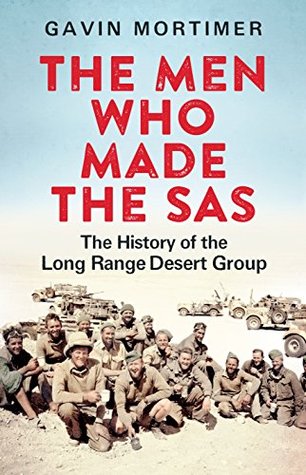 The title is an excellent example of a publisher shoehorning a mention of a 'sexier' subject into the title to pick up readers. The book is actually about the subtitle: The History of the Long Range Desert Group. The LRDG was set up to do exactly what it said: scout and reconnoitre at long range in the desert. The SAS was a separate organisation and while there was a degree of overlap between the two, and some rivalry, they remained two separate organisations throughout World War II.
The Long Range Desert Group really doesn't need the spurious association: their exploits were just as extraordinary as those of the SAS. Driving deep, deep into the desert, navigating by a combination of speed/distance and compass bearings (the maps were blank for the areas they were going into) they went far far behind enemy lines, lying low there sometimes for weeks at a time, observing, recording, reporting and sometimes attacking. It was this experience of operating independently behind enemy lines for long periods of time that laid the foundations for the Chindits and later special forces operations.
The story of how Major Ralph Bagnold, an inter-war scientist, explored the desert and then used his expertise in desert exploration to set up and train the LRDG is fascinating, as are the many extraordinary characters who became members of the LRDG. Right from the off, the LRDG prioritised men who could think for themselves, setting it outside the usual terms of military reference, and the men who found a home within the organisation more than repaid Bagnold's faith in them.
It's also interesting for how, the Desert War won, the LRDG attempted to find a new role for itself in the war for Europe – with relatively little success. The techniques that worked in the desert were not nearly so successful in Europe, leading to the Group's eventual disbandment. But the template laid down by the LRDG would inform the operations and training of all the later Special Forces units. The book is a fitting tribute to these intrepid men.