The Seven Kingdoms of Old England: Kent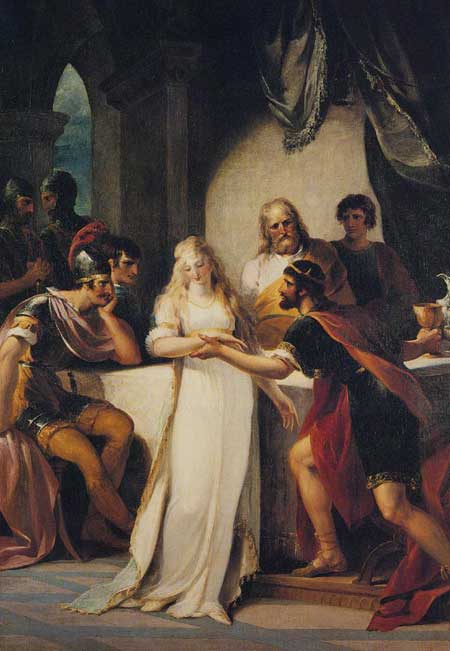 Kent was where, according to tradition, the first kingdom of the Anglo-Saxons was established. Only, the kings of Kent were not Angles or Saxons. They were Jutes, from the north of the Jutland Peninsula. The social organization of Kent was significantly different from those of the other Anglo-Saxon kingdoms, with only one class of noble as opposed to the two in other kingdoms, while Kentish peasants (ceorls) were also more important than those in the other kingdoms.
According to legend, the first kings of Kent were the brothers, Hengist and Horsa. They were mercenaries for hire who were invited to Britain by Vortigern to fight against the Picts who were raiding down the east coast following the collapse of Roman power. In the declining years of the western Roman Empire it was not at all unusual for barbarian mercenaries to be hired to fight barbarian raiders, so there's nothing intrinsically unlikely about the tale. It was, however, later embroidered to include details such as Vortigern becoming infatuated with Hengist's daughter Rowena and signing over Kent to her father in return for the daughter.
It's only with the long reign of King Æthelberht that historical evidence for the kingdom emerges. The kings of Kent maintained close relations with the Merovingian kings across the Channel, trading widely with them and, as a result, having greater wealth at their disposal than other kings in Britain. It was this wealth that gave Æthelberht the political clout to be regarded as Bretwalda and it enabled his marriage to a Frankish princess, Bertha. Bertha was Christian, however, and the marriage was contracted on the basis that she would remain so. In 599, Æthelberht received a mission of Italians, come all the way from Rome, that was led by a monk called Augustine who had been dispatched by the pope to convert the pagan Anglo-Saxons. Æthelberht accepted the new religion, and installed Augustine at Canterbury, making the church there the mother church of the country.
Kentish dominance did not survive Æthelberht and, while the kingdom remained rich, there was savage internecine strife in the ruling family. Thus weakened, in the latter part of the seventh century Kent came under the domination of Mercia, which continued off and on until the rise of the West Saxons in the early ninth century, when the kingdom became part of Wessex. As such, Kent played a key part in Alfred's struggle against the Vikings, coming to the fore in the Viking attacks during the 890s, the last decade of Alfred's reign, when the threat of the Northmen was broken for a century.