Adventures with Words: Defenders of the Faith by James Reston Jr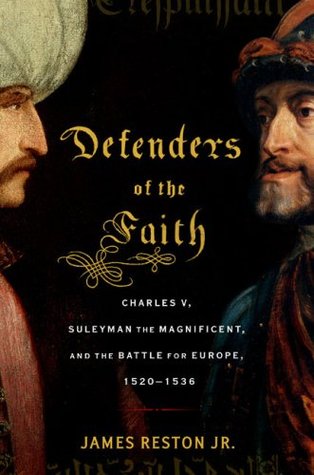 A lot happened between 1520 and 1536. James Reston Jr whizzes us around the world where it was happening, from Henry VIII's attempts to extricate himself from his perfectly legitimate marriage to Catherine of Aragon, through to Martin Luther nailing his 95 theses to a door and setting in train the Protestant Reformation. But the fact that the Reformation endured rather than being suppressed was in large part due to what was happening elsewhere, in particular the looming threat from the east: Suleiman the Magnificent and his Ottoman Empire.
The sixteen years covered in Reston's fast paced, gossipy book, an excellent example of popular history, revolves in particular around the confrontation between Charles V, Holy Roman Emperor and, by reason of canny Habsburg marriage diplomacy, ruler of most of Europe apart from France and England, and Suleiman, Emperor of the East. Where Charles was Holy Roman Emperor, Suleiman was Emperor of Constantinople. And while it is possible for there to be a plurality of kings, according to the lights of the time, there could be only one emperor. Both Suleiman and Charles considered themselves the one but Suleiman, with a realm that was less fissiparous, had the advantage. With the Turkish threat, Luther and the German princes who supported him had Charles and the Habsburg monarchy perpetually looking over their shoulders. Thus the Reformation was saved. But it's clear that, had the weather been better, Suleiman might well have succeeded in his goal of taking Vienna and unlocking the gates of Europe. Then how differently might history have played out. But the spring and summer of 1529 were exceptionally cold and wet, bogging down the great Turkish supply train as it struggled westwards and forcing the Turks to abandon their heaviest cannons. Reaching Vienna, they put up a desultory attempt to storm the city but without the fine cannons that were their trump card, militarily, they could not breach the walls.
However, in an early example of spin, Suleiman and his advisors declared the expedition a victory and went back to Constantinople and celebrated it as such. One of the interesting facts we learn from this book is that propaganda is by no means a recent invention.
Overall, an engrossing and reader-friendly account of a crucial time, with Reston managing ably to delineate the various historical personages so that they each come across as distinctive personalities.