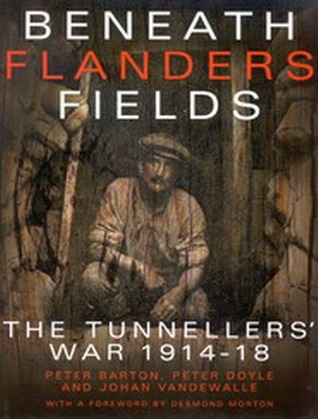 There's an old Pogues song, from the days when Shane McGowan had most of his teeth and much of his wits, called Down in the Ground where the Dead Men Go. The chorus runs, with Spider Stacey bashing an empty beer tray on his head for percussion, "I don't want to go down in the ground where the dead men go."
That was exactly where these men did go during the First World War, fighting a silent battle beneath the ground that remains virtually unknown to this day yet, eerily, remains still largely untouched beneath the fields of Flanders where above ground the scars of the war have disappeared beneath the plough.
This was a silent war, a dark war, a secret war, of tunnellers digging in absolute quiet under enemy lines to lay mines there, sending up volcanoes of earth and rock and bodies when they blew. For the troops, sheltering in trenches from the shells and artillery from above, to have the earth below erupt and swallow them was particularly demoralising.
Peter Barton and his co-authors do an extraordinary job of bringing this forgotten theatre of the War back to life, mingling first-hand reports and memoirs with broader history and recent archaeology, much of it their own. It was one theatre of the war where the British gained complete mastery, outengineering the Germans, and this underground dominance played a large part in the British victories of 1917.
A superb history of a largely unknown aspect of the war.