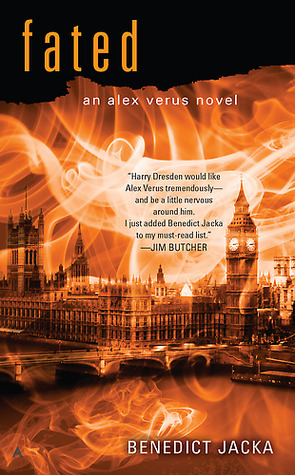 There's 12 books in the Alex Verus series and I raced through them, so I must have loved them. Yes?
Well, yes, but with a couple of qualifications. First, let me tell you who Alex Verus is and why I ended up reading 12 books about him over the space of about three months. Alex Verus is a mage, that is to say a wizard. However, he can't do everything: his particular ability is to be able to sight walk probable futures and to adjust his own actions in light of these probabilities. Basically, he tells the future. Within the context of the nearly non-stop action in the books, this manifests most often as him dodging blasts of magic from other mages, out to get him. Because it turns out that other mages have particular abilities too: elemental mages can manipulate earth, fire, water or air (usually one element per mage), time mages can see into the past, and so on.
The magical world is divided into the mages of Light and Dark, and independents, which does rather suggest that one side is good and the other bad. But it turns out that the Light mages aren't that much better than the Dark mages but what they do have is a much more highly developed bureaucracy. Because, yes, being able to do magic doesn't mean that the world becomes a place of wonder: turns out magical society is much like our own but with magic battles, examinations, bureaucrats and thoroughly expendable security men (and even greater isolation and loneliness).
Alex Verus starts off as an independent, trying to mind his own business and his magic shop in Camden. By the end of the series, he's minded everyone's business but his own and his shop in Camden has been variously exploded, bombed, attacked and burned down.
For books one to eight, my Alex Verus review runs so: Alex, while apparently minding his own business, is drawn into trying to foil a nefarious plot laid by one or another ruthless faction. Through great ingenuity, he seems on the point of succeeding, only for everything to go pear shaped. Alex and his small group of friends seem to be on the point of painful and terminal failure when another idea allows them to make good on the mission and escape with their lives.
Yes, Benedict Jacka is of the Raymond Chandler school of plotting: when in doubt, have someone come in through the ceiling with a lightning spell.
The last four books are basically one continuous story arc, bearing every sign of a series that the writer was rather surprised would get so far but who then decides to finish off by throwing everything into the plot, stirring it vigorously and seeing who survives.
It's all tremendous fun although perhaps, if the pace wasn't so wonderfully brisk, one might see a few holes opening up in the world building and the plot. But it all moves along so quickly that the reader is swept along in the magical tide of events, right through to the conclusion.
So if you like fast-paced storytelling with wands substituting for guns and a personable hero who tries not to kill people despite accumulating a body count to match Harold Shipman then this is the series for you.